The White Marble Tiles are a natural stone material that is quarried from deposits of marble rock, which can be noted in its color and grain patterns. It has been used to create products such as flooring, countertops, stairs and wall cladding for many years now with outstanding results.
What is White Marble Tile?
White marble tile is a kind of natural stone. It has the white color with an amazing durability and beautiful finish which will last for many years. This material can be used in both inside and outside projects depending on your preference. You can use it as flooring, kitchen countertops, or even bathroom wall cladding.
Where You Can Use White Marble Tile?
You can use this material as a work surface for your kitchen or even dining room, providing you with the elegance and luxury that is needed in these places of importance. This product will make all rooms look more luxurious than before. And it's not just used in residential areas - there are many commercial uses too! Below you can get more details about use of this material as per spaces
White Marble Countertops

:
White marble is a type of metamorphic rock created when limestone becomes recrystallized. When it has been used for countertops, it often takes on the oil rubbed bronze finish which brings out its natural white color. We use high quality White Marble from China and Italy to make beautiful countertops that are perfect for your home or business.
White marble countertops are a luxurious, beautiful and timeless material. This natural stone is soft enough to work with using traditional chisels for installation, without the need of diamond tipped saws or lasers. White Marble Countertops can be paired with any woodworking surface from butcher block tops to stainless steel sinks in order to create an original statement in the kitchen or bathroom.
White Marble Tiles On Flooring

:
White marble floor tile is a very durable material that can be used in many applications. White marble flooring, for example, has been gaining popularity in recent years due to its durability and pleasing look. It is an excellent option for high-traffic areas such as the hallways or entrances of an office building.
White Marble Tiles In Living Room

: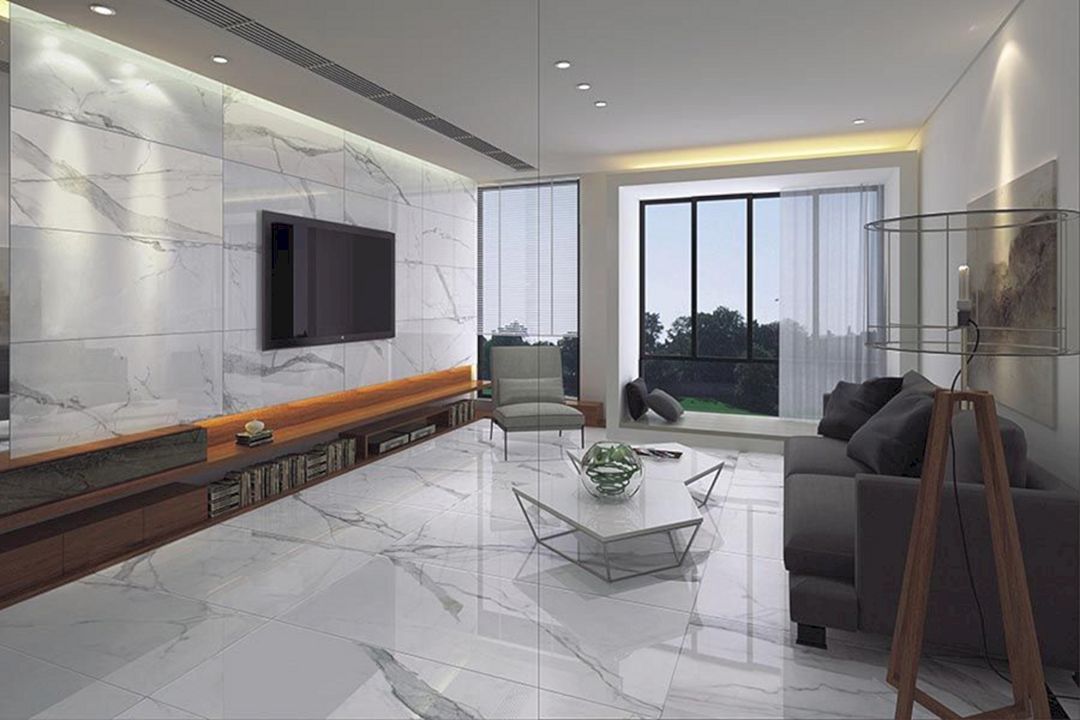 Are you looking for a sustainable and timeless material to use in your living room? White marble living room tile is the perfect choice. It has become an increasingly popular finish, with many homeowners choosing it as their main wall or flooring material.
White Marble Tiles In Dining Room

: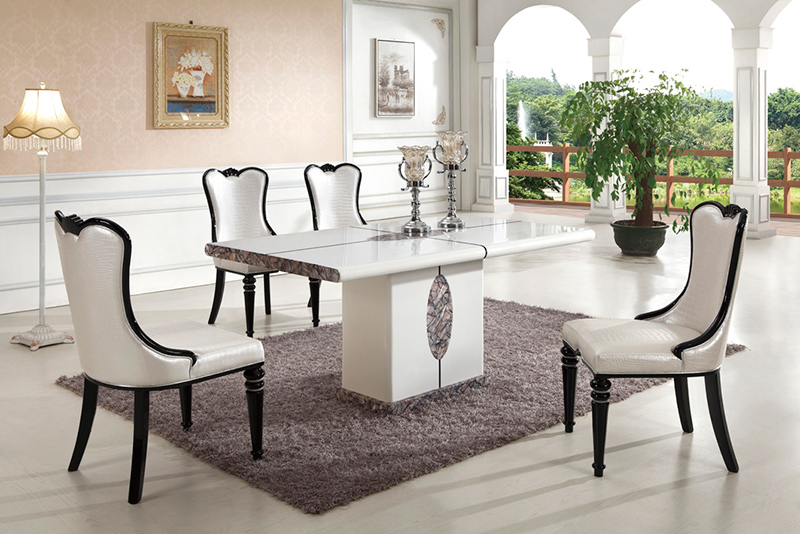 You can also use this material as a work surface for the dining room, providing you with the elegance and luxury that is needed in these places of importance. This product will make all rooms look more luxurious than before.
White Marble Stone Tiles For Garden

:
The material can be cut and carved into any shape you want. This product has been used for centuries in different ways, from flooring to countertops. It also works as an excellent garden decoration because it does not stain or fade easily when it is exposed to the elements.
It retains its color when it's been installed in exterior areas because temperature changes during wintertime or summer don't affect this type of material. White marble garden tile has a lot of variety in terms of finishes and textures.
White Marble Tiles In Bathroom

: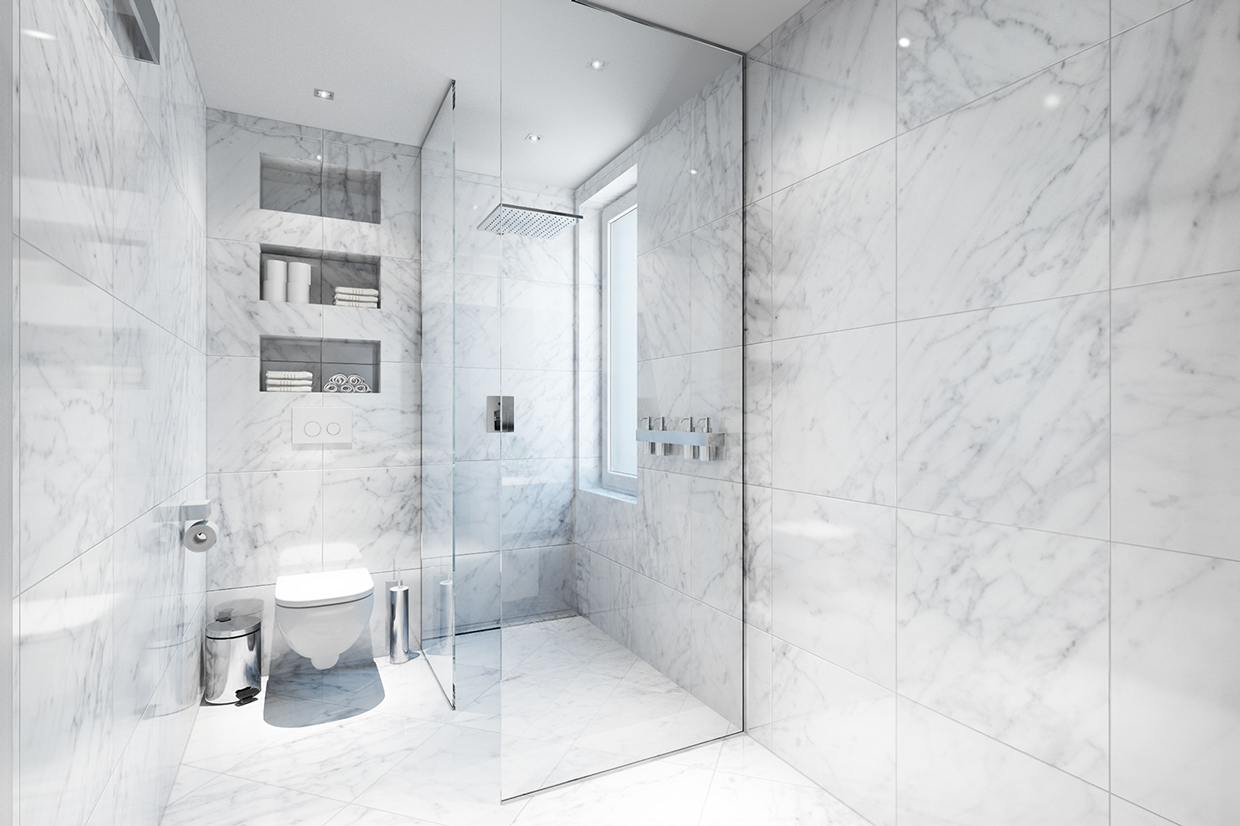 White Marble Tiles can be used for a bathroom. This bathroom tiles are available in various sizes so it can suit any need and size of the room, but you should keep in mind that larger tiles will require more time to install properly. You may choose from different finishes like polished or honed finish. White Marble Shower Tile is easy to maintain since it has a natural polish. You can use any of our products for the bathroom like faucet, shower or soap dish.
White Marble Tiles On Wall

: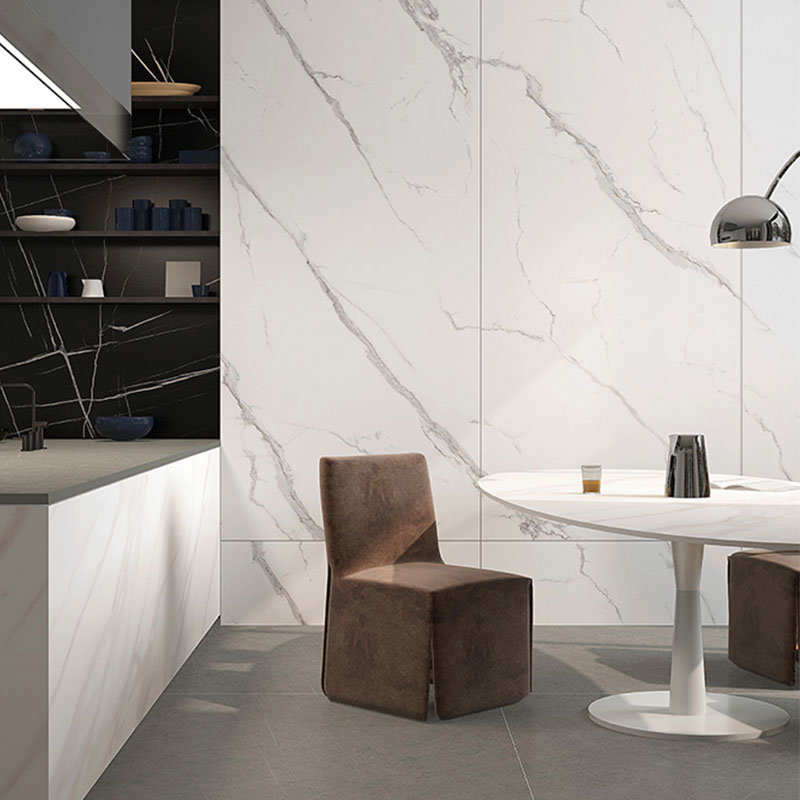 White Marble Wall Tile is a beautiful natural stone which has been used for centuries to create elegant wall. The varieties of finishes available on this white marble wall tiles offer many design possibilities, highlighting the beauty in its natural form with an even more refined sheen or contrasting it against any colour under the spectrum by adding blended tones to its surface.
FInishing Option In Our White Marble Tiles:
There are main four finishing option available in which we offer our white marble tiles:
Glossy:
The glossy white marble tile is the most popular and commonly used. Glossy finished marble has a more polished look than its honed counterpart, which can make it appear shinier or glossier in appearance when viewed from certain angles.
High Glossy:
High gloss white marble tiles provides a high-gloss shine. Provides protection from staining and scratching. Provides resistance to dirt buildup, making it an ideal choice for kitchens. Low Glossy White Marble Tiles: Provides low gloss finish that will resist scuffs and scratches.
Rustic:
This finish can be achieved by exposing the natural, rough and irregular surfaces of the tile. The ground surface is left unharmed in order to preserve a sense of history. Ideal for residential exteriors or interiors such as fireplaces, flooring, countertops or tabletops.
Satin:
Satin is one of the most popular finishes for White marble tiles. Satin is polished to a high sheen and has a silky smooth feel when touched. There are two types of satin finishes: full-satin, which provides maximum shine; and semi-gloss, which offers more texture than other types of finishes.
Different Sizes Of Our White Marble Tiles
We served our white marble tiles in many different sizes as per clients requirements some main sizes of it are:
1200X1200 MM

800X1800 MM

800X1600 MM

600X1200 MM
Our White Marble Tiles Product Collection
Here you can explore our latest designs and products of white marble Tiles. Below check brief details about every product:
Carrara White: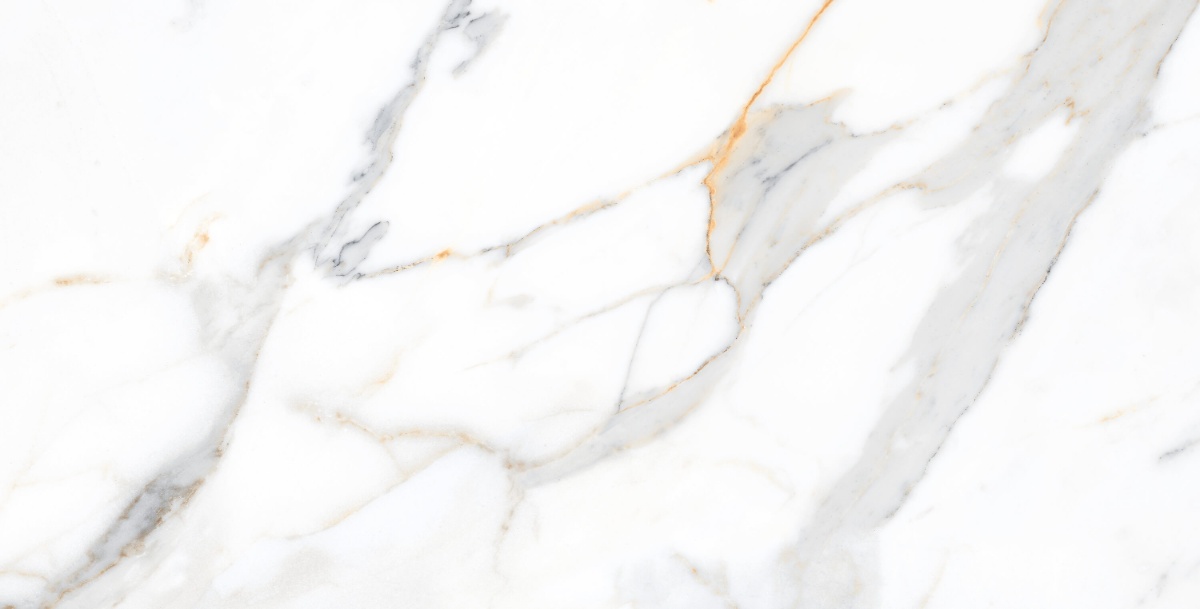 Carrara white Marble Tile is quarried in Carrara, Italy. It has a light to dark color variation and it's often used on countertops because of its durability and resistance to staining. White Carrara Marble Tiles provides a traditional look for all of your indoor and outdoor décor needs, with the perfect blend of natural elegance and sophistication.
Bianco Carrara:
The Bianco Carrara Marble Tile is the most popular marble tile in the world. The stone comes from Italy and it's made of pure white color with grayish veins running throughout.
Statuario Glacier:
Statuario Glacier Marble Tile is quarried in Brazil. It has a light to dark color variation and it's often used on countertops because of its durability and resistance to staining. Glacier Statuario Marble Tiles provides the perfect blend of natural elegance, sophistication, and serenity for any area indoors or outdoors where you desire a timeless look.
Capri White:
The Capri white marble tile is quarried in the Carrara region of Italy. It has a light to dark color variation and it's often used on countertops because of its durability and resistance to staining. This type of marble tiles gives you that classic, timeless look with natural elegance for any area indoors or outdoors where you desire a timeless look.
White Macaubas:
White Macaubas Marble Tile is a unique marble that has been quarried in Brazil for almost 200 years. This tile is known for its bright white color and uniformity, ensuring each tile will have an even surface without any cracks or flaws. This refined marble tile has slight hints of beige with small amounts of black speckles, which are often referred to as "snow".
This marble tile is mostly used for interior design projects and can be applied in a variety of ways such as flooring, furniture pieces or even wall coverings. White Macaubas Marble Tile has been quarried since the late 1800's so it also carries with it an old world charm that many people find appealing.
White Macaubas Marble Tile is a natural and renewable resource, which means it's environmentally friendly by not using any type of fossil fuels or emitting CO₂ into the atmosphere during its production process. This tiles also has low water absorption rates, making it perfect for use in places with high humidity levels.
Arbescato White:
Arbescato White is a white marble tile which has an uniform grain and finish. It has tints of brown on the rear side, it's not rough to touch. Arbescato white marble tile is also referred to as "white granite" due to its high resistance against oils stains from food or drinks. The top surface is glossy and smooth.
The polished finish is very durable and it is a good investment for your home or office. It's situated on the highest level of hardness as well, which makes it stain resistant at all times. Arbescato white marble tile is also available in different finishes such as Honed and Tumbled to suit every customer's needs.
Bratvi White:
Bratvi White is one of the most common and purest white marble tile with a delicate blush that makes it look like snow. It comes in two different grades: bratvi white, which has as many visible veins as possible, and pashmina white, which has no vein pattern at all. The quality improves to 100% for both types with more veins.
Brazia Stone White:
Brazia Stone White is one of the best-selling marble tile in India. Brazia stone white marble tile has a very unique texture and finish for any type of project you are working on. This tiles have an easy to clean high gloss surface which makes them perfect for bathrooms, kitchens, entryways or anywhere else that needs a beautiful white marble tile. They come in different sizes as well so you can find what will fit your specific needs and budget.
Cemento White:
Cemento White can be used for any type of surface. Cemento white marble tile is a semi-polished and durable stone that has an elegant natural look with slight variation in the color tone ranging from light to dark. The colors are obtained by mixing different minerals like calcite, dolomite, etc.
Daino White:
Daino White Marble, a stunning white marble tile with beautifully veined light grey and black swirls that will make your project stand out. Daino white marble tile is quarried in the mountains of Carrara Italy, known for its centuries-old tradition of quarrying blocks for world class sculptors. With such high demand from artists around the world, Daino marble tile is quarried exclusively from a single quarry in Carrara.
Daino White Marble tile has an extremely low porosity and high absorption ability which makes it very durable. The stone's natural patina will not be affected by water or oils over time, making for a beautiful finish that can last many years with minimal maintenance.
The Daino White is available in large tiles of over 20 square feet as well as smaller custom sizes for more detailed projects. A beautiful, outdoor kitchen island or modern bathroom vanity can be created with this tile that will stand the test of time and trends by adding a timeless design to any home project.
Daino Marble Tile is an exceptional choice for a high-end project with its one of a kind design, durability and variety.
Florida White:
Florida White is a limestone quarry in the heart of Florida. It is one of the most popular white marble tile in North America. This material has been used for centuries to create beautiful and durable buildings, monuments and sculptures by some of the world's best architects because it can be easily carved into intricate designs while remaining strong enough to support the weight of heavy objects.
Today, Florida White Marble Tile is used for everything from residential countertops to commercial flooring and more! It can be polished, honed or left natural depending on what you're looking for in a marble tiles product.
Glam White:
Glam white marble tile is a very popular tile for kitchen and bathroom countertops, flooring, backsplashes, shower walls. This tile has an attractive glossy finish that complements the colors of any home or business. It can be cut into many different shapes and sizes to match your needs. An additional benefit with this type of marble tile is that it is resistant to acidic foods such as vinegar and fruit juice.
Graphite White:
Graphite White Marble Tile has the appearance of graphite or coal but is actually made from pure minerals like limestone, dolomite, shells, corals and fossils that have been compressed over millions of years.
Graphite White Marble Tile is a very popular for kitchen and bathroom countertops, especially where the design will have water exposure as it does not absorb water which can damage the stone over time. It's also used in high-traffic settings such as office lobbies, hotels, hospitals or shopping malls because it's dark background looks uniform and is easy to maintain.
This type of white marble tile is one of the most popular as it offers a wide range of colors, textures and patterns with a price point that suits most budgets.
Kinder White:
The Kinder White Marble Tile is a natural tile quarried in the Alps. It's known for its distinctive white veins, with creamy, golden brown and black tones throughout. This kind of marble tiles will make an attractive countertop or flooring material if you're looking to create eye-catching contrast between different materials like wood or metal.
It's a great choice for those looking to add warmth and natural beauty to their space, as well as help preserve the environment by choosing sustainable products. This tile is not recommended for exterior use such as floors or walls due its delicate nature.
Lakme White:
Lakme White Marble Tile is popular in flooring and for other construction. Some people may not know this, but it takes about 20 years to produce Lakme White Marble!
Makarani White:
Makarani White Marble Tile is quarried in Makara, Sri Lanka. It has been used extensively on buildings and monuments throughout the world since ancient times. The stone was quarried from an inland quarry near to the town of Chikswala in Thirana District and had always been known as 'the White Stone of Makara'.
It has often been used in combination with the dark pinkish-red Stone Town Red variety to create a marble tile that is known as 'Rose' or 'Marbled Rose'. The white stone from Makara is also traditionally quarried in a unique way, with the blocks being shaped by hand and then polished on both surfaces.
Marbita White:
Marbita White Marble Tile is a beautiful and rare type of marble tile. It has been found in only two quarries, one located near the city of Carrara (Pietra Forata) on Italy's west coast which produces 90% of all white marble tiles used around the world today, and another quarry at Pavia in northern Italy that provides a small but high-quality production. It is the only type of white marble tile that is a pure white when quarried and can be used for both indoor and outdoor projects such as floors, tiles, cladding.
Miel White:
Miel White Marble Tile has been quarried in Turkey. This marble tile combines the best of both worlds, natural beauty and wearability. Miel White Marble possesses an exceptional quality that makes it less sensitive to scratching and marking than other marbles available on the market today. It also incorporates a hard-wearing surface that is able to withstand changes in humidity.
This tile has a high degree of translucency, which means it will not take on any color from the atmosphere and can be used with confidence for interior design purposes. Miel White Marble Tile also exhibits very good resistance to alkalis, acid solutions and other aggressive chemicals making it an excellent choice for interior and exterior design.
This White Marble Tile is available in tiles, mosaics or cladding that are all sold with a lifetime warranty. So whether you want to use this marble as an art installation or just simply put it on your kitchen countertop Miel White Marble has the ability to deliver. There is also no better way to add texture and style in your home than with Miel White Marble.
Rigato White:
This is a type of white marble tile with light yellow-brown veins that give it an appearance resembling honey or sugar melting in milk. This material can be found in many kitchens, bathrooms, and living rooms.
Rigato white marble tile has an even grain that is uniform in appearance with a velvety texture to the touch. It comes from quarries located near Carrara on the coast of Tuscany, Italy.
Seagesta White:
Seagesta White Marble Tile is quarried from Bergamo, Italy. This white marble tile has a predominantly gray uniform color with small fissures and veins resulting from its geological origin. It appears to be very clean.
Sonata White:
Sonata White Marble Tile is originated from Italy. This type of stone has been used widely for floors, walls and countertops because the color naturally matches with other light colors such as cream or white. The surface will have dull sheen to it which makes this product perfect for areas where people walk around barefoot frequently.
Zed Onix White:
Zed onix white marble tile has a look and feel such as no other. It's rich in its appearance, with veins that are almost indiscernible to the naked eye. When you come across this type of marble tile it seems like just looking at it will reveal something new, every time.
Zocati White:
Zocati white marble tile is a perfect choice for any space. The brightness of the unique, natural color and versatility on offer makes it an easy choice. It's clean look also gives you the option to get creative with your design!