What Is a Gold Marble Tile?
In the world of surfaces, marble tiles are one of those ingredients that can really make a space memorable. The gold finish on this material creates an elegant look and feel that would be perfect for any area in your property where you want to add something special like a fireplace mantel or even as backsplash in a kitchen.
Where Can Gold Marble Slab Be Used?
Gold marble tiles can be used in many different ways, but one of the most popular uses for this material is to make fireplace mantles or even as backsplash in your kitchen. This finish would work great with any color palette and it will not clash with anything else in your room. Some most popular spaces where we can use it are as below:
Kitchen

Bathroom

Hallway

Living Room

Outdoor
Different Finishes Of Gold Marble Tiles
There are many different finishes available in golden marble tiles and some most popular of them are as below:
Glossy:
High-Gloss:
Different Sizes Of Golden Marble Tiles
Gold Marble Tiles are availabe in many different sizes as below:
800X1600 MM

1200X1200 MM

600X1200 MM
Eplore Collection Of Different Types Of Gold Marble Tiles
The Gold Marble Slab collection currently has over 20 different product options available:
Portoro Gold:
Above is A picture of Portoro Gold Marble Tile with a light, creamy finish. The warm tones of the gold mixed with cream create a beautiful golden marble tile that is perfect for any design project.
Emperador Gold:
The Emperador Gold Marble Tile is a luxury tile that can be used on floors, walls and interior furniture. It has an antique finish which is created by using in-situ gold leafing techniques.
There are two finishes available: Polished and Antiqued. The polished version will provide you with a bright, shiny finish that is perfect for being used in high traffic areas like kitchens and bathrooms. The antiqued option will provide a softer touch with more of an aged appearance - this is the ideal choice if you want your home to look vintage or rustic.
Breccia Gold: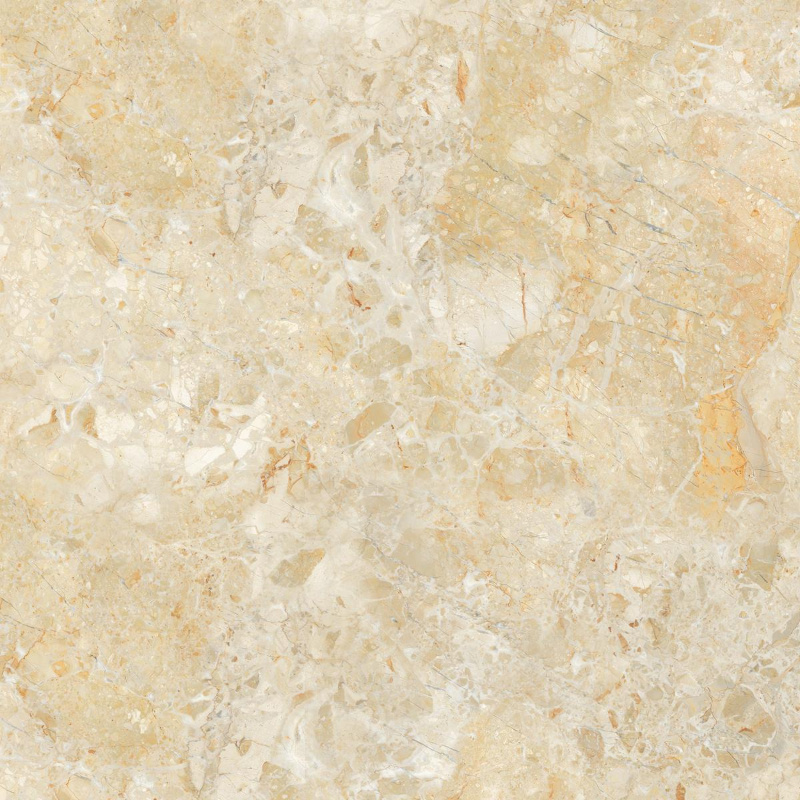 Breccia Gold Marble Tile is a unique marble tile with gold veins, giving it a rich and luxurious appearance. It can be used in both high-end residential projects as well as commercial applications like hotels or restaurants. It has been prized by many cultures for its beauty, durability, practicality and elegance since the days of the ancient Romans. This tile is a form of marble composed primarily of calcite, with no or few other minerals present in significant quantities.
Alaska Gold:
Alaska Gold Marble Tile is made from marble quarried in the United States. It has a unique gold vein that runs throughout the tile, creating contrast and depth for any design. This natural stone tiles comes from all over the country but oftentimes does not have enough of this golden thread running through it to be considered Alaska Gold Marble Tile. Despite the name, this marble tile can be found in many different states.
Almaty Gold:
Almaty Gold Marble Tile is a type of golden marble tiles. It has beautiful colors and patterns, making it one of the most popular marble tile to be used for flooring purposes. Almaty gold marble tiles have natural veins that add depth and interest to the look while also being in high demand from architects around the world who are looking for a marble tile with a premium look and feel.
Ambrosia Gold:
Ambrosia Gold Marble Tile has the true golden color of old school Greek and Roman gold leaf which was made from a combination of 24K, 18K, 14K and 12K metals. This tiles displays an even tone with subtle variations in luminosity that produce a beautiful shimmering effect when light shines on it. This product is available in slabs and tiles.
This tile has a luxurious, elegant look that can be wonderfully used for high-end kitchens or bathrooms with lavish fixtures. It can also be cut to size and installed as wall panels or flooring on walls at entrance ways where guests are met by luxury before they enter the home itself. It is a perfect way to add some glamour and luxury to any design.
Bross Gold:
Bross Gold Marble Tile has the look and feel of natural stone, but with the added durability and strength that comes from being man-made. This product can be used for kitchen countertops, bathroom vanities or even flooring in your home. This product has an excellent resistance to fire and can be used on the floors, walls or ceilings of your home. It will not crack or chip, and can withstand the harshest of environments.
Daino Gold:
Daino Gold Marble Tiles are made of a single slab with an exclusive Daino marble finish. These tiles can be used for flooring, walls or countertops in the kitchen and bathrooms. The tiles come in different finishes such as polished, honed and tumbled which give it many uses so that the homeowner can have versatility in their home. Daino Gold Marble Tile is an excellent product for homeowners who want a high-quality and luxurious marble tile that is durable, timeless and elegant.
Gold Marroan:
Gold Marroan Marble Tile Is a type of Marble Tiles that is as it's name implies made from marroan and gold. With this tile you will be able to create a luxurious, but yet still minimalistic look for your kitchen. It is available in premium finishes with Dark Stain Effect.
Golden Leaf:
Golden Leaf Marble Tile is specially designed for home and office use. It has a unique texture that will surely add a touch of class to your tableware collection. This tiles can be used in multiple ways such as being the perfect desktop, or coffee table. What makes this tiles different from other tiles you find on the market is its ability to be cut into shapes and sizes of your choice.
These tiles can also be used for a backsplash in the kitchen, or bathroom with some creativity. The best part about this tile is there are so many beautiful finishes that Golden Leaf Marble Tiles offer.
Jewels Gold:
Jewels Gold Marble Tile is a beautiful collection that features the best of marble and gold. The perfect blend gives this tile its rich color scheme, while preserving the integrity of each piece's natural beauty undertones in black veining. It is the perfect product for those who want to give their home a luxurious feel. This marble tile provides an elegant appearance that will make your house look like it belongs in Beverly Hills! This tiles are made with the highest quality of stones that have been quarried for centuries and hand cut in Italy.
Marfil Gold:
Marfil Gold Marble Tile has flecks of gold and black mixed into it, which creates an opulent feel. It is a luxury marble tile which is quarried in Brazil and then shipped to the US for fabrication. This material can be used as flooring, wall cladding or furniture design elements. This tiles are available in different finishes including polished (smooth), honed (smooth), flamed, brushed and bush-hammered.
Medrid Gold:
Medrid Gold Marble Tile is one of the most popular marble tile in the world. It is a part of Medrid's wide range of marble tiles. It has great natural colors and uniformity, making it unique. These qualities are used to produce the highest quality countertops in the market today. The best thing about these marble tiles is that they don't need any sealant or treatment to maintain their natural beauty for years.
Pulse Gold:
Pulse Gold Marble Tile is a warm and inviting tile that reflects the light in so many different ways. This gorgeous, sparkly gold marble tile will add warmth to your space as well as make it feel more luxurious. The natural sheen of this beautiful material provides depth and dimension for dramatic effect without being overbearing or gaudy. This type of gold marble tile can easily be used for residential purposes, and it is usually found in kitchens or bathrooms.
Roza Gold:
Roza Gold Marble Tile is a top quality tile that's perfect for interior and exterior applications. This natural stone tile has an elegant pattern with gold undertones, which makes it the most popular marble tile in the world. This product has made the list of 20 most expensive tiles in India.
Swiss Gold:
Swiss Gold Marble Tile is a natural stone tiles product that has been quarried in the central part of Switzerland. These are then polished to produce an elegant, durable surface to use on any type of flooring installation.
Travertine Gold:
Travertine Gold Marble Tile has the look and feel of natural limestone with all the beauty, durability, warmth and appeal. It features an eclectic pattern of gold veins complemented by cool whites to create a timeless masterpiece for any project. This tiles can be used as flooring, wall cladding, fireplace mantels or any other interior design project.
Williams Gold:
Williams Gold Marble Tile is a natural marble tile that has been quarried and cut in the United States. It's good quality at an affordable price. It can be used on walls or floors of any type of application. It is designed to be easy to install.
Calacatta Gold:
The Calacatta Gold Marble Tile is a beautiful, high-quality marble tile with a gold vein running through it. This tile has been hand-selected for its rich golden tone and color that make it perfect for use as an accent or secondary material in any space you desire to add some luxury. It is one of the most popular types of marble tiles.
Travertino Gold Marble Slab:
Travertino Gold Marble Tile is a rich, warm gold color that has an exclusive golden veining which gives it the appearance of gold leaf when polished to perfection and sealed with a water-based sealant or wax. It can be used in flooring, exterior cladding, facades and features as the golden veining really stands out