What is Bianco Marble Slab?
Bianco Marble Slab is a natural stone slab. This is a surface material that can be used in residential and commercial applications. It's appropriate for areas where it needs to be durable, resistant to stains and scratches as well as heat-resistant. It has an incredible natural appearance combined with the durability of synthetic materials which makes this product perfect for those who want something stylish and practical. Bianco marble slabs are available in different finishes such as honed or polished to meet your desired look. They are also offered in various sizes so you get exactly what fits the space you're
Where Can You Use Bianco Marble Slab?
Bianco Marble Slab is a durable and stain-resistant material that has an incredible natural appearance. It's perfect for residential and commercial applications in areas where it needs to be both stylish and long lasting, such as:
Kitchen countertops And backsplashes: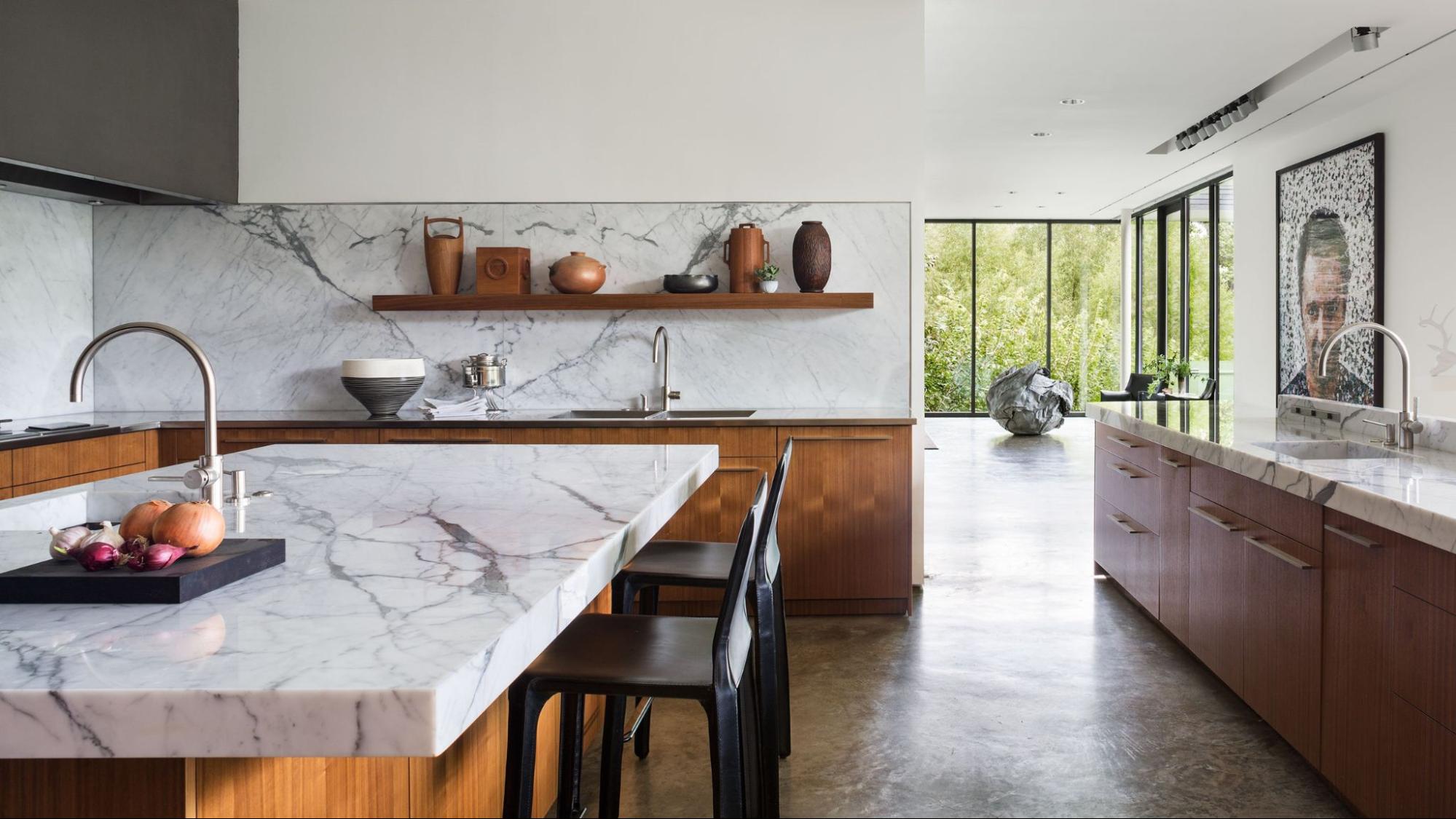 Bianco Marble is an excellent material for kitchen countertops and backsplashes. The stone is non-porous, heat resistant and easily cleaned with regular soap and water. It's also scratch and stain-resistant so your lovely slab of Bianco marble will last a lifetime!
Bathroom vanity tops and flooring:
Bianco Marble Slab is perfect for bathroom vanity tops and flooring. It has a high resistance to heat, staining and scratching which means it's durable enough to withstand the humidity of your wet-rooms as well!
Bedrooms:
Bianco Marble Slab is a great addition for your master bedroom. With its soft, warm colors and elegant designs, it makes the perfect counterpoint to any space's décor with its rich and luxurious look.
Living Room:
Bianco Marble Slab is a perfect choice for the living room. You can complement its beautiful color with other neutral colors, or make it pop by adding blues and greens to your space.
Dining Room:
Bianco Marble Slab is the perfect complement for any dining room. With its classic styles and exquisite designs, it will add a touch of sophistication that your space needs.
Entrances:
Bianco Marble Slab is an exquisite material that can be used inside and out. You may find it on the floor, as a table top or wall covering in an entranceway or atrium.
Wall and Flooring:
Bianco Marble Slabs are commonly used as large format flooring and wall cladding because of their durability and easy installation.
Outdoor Spaces: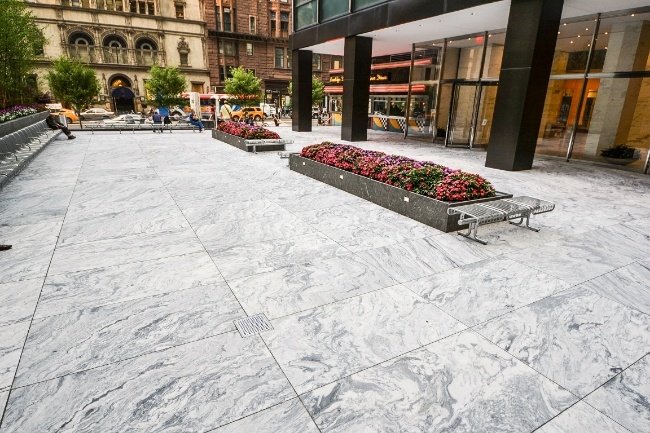 Bianco Marble Slab is the perfect complement for your outdoor space. It's durable and easy to maintain so it will last you a lifetime while adding elegance to your garden, porch or balcony!
Outdoor fireplaces:

The natural beauty of Bianco marble slabs make them an excellent choice for outdoor fireplaces. They are heat-resistant and easy to clean so your fireplace will always look like new!
Who Can Use Bianco Marble Slab?
Anybody who might want a long-lasting and durable hard surface flooring. The most common users of the product are homeowners, landlords, designers in both residential and commercial settings, architects for new construction projects as well as remodeling jobs.
The Benefits of Bianco Marble Slabs Include:
No need for a sink or counter space

Lightweight and can be easily transported to another location with zero effort

Larger sizes available, up to 120"x72"

Easily installed anywhere in your home without harming the flooring below it.

Comes with a 20 year warranty on all parts

Customizable to your specifications

Insulated and won't retain heat or cold, meaning you can use it all year round.
Pros And Cons:
Bianco marble slab is a more expensive material for floors when compared to hardwood, laminate or other materials. However the customer will enjoy benefits such as durability and timelessness of Bianco marble slabs that make it worth the price. The beauty and elegance which are inherent in this product also help justify its cost.
Available Finishes:
Below you can find details about finished in which we offer our bianco marble slabs:
Glossy:
The glossy finish is the most common and popular finish for bianco marble slabs. The glossiness of this particular type of limestone has a high sheen that gives it an elegant appearance.
Italian:
This light, polished stone provides a very clean look with its smooth surface and subtle tones which are perfect for large areas like entrances or halls.
Rustic:
The rustic finish on bianco marble gives it a textured feel which is perfect for adding character to any space in your home or outdoor living area. This type of limestone has an aged look that can be transformed into something new through the application of paint and sealant if desired, giving you many options for customizing your bianco marble slabs.
Satin:
The satin finish on bianco marble slabs is a smooth, glossy stone that offers a lot of detail. This limestone can be polished to provide an elegant appearance or left with more texture for added character and interest.
Available Sizes:
We offer wide range of bianco marble slab products in following sizes:
600 x 1200 MM

800 x 1600 MM

1200 x 1200 MM
Bianco Marble Slab Product Collection
Bianco Marble Slab offers different product collections for your needs. You can choose from the following:
Bianco Carrara Marble Slab:
Bianco Carrara Marble Slab collection features a wide variety of colors and textures, which are perfect for any project that you have in mind. The range consists of 16 patterns with three finishes: Polished, Honed, and Flamed.
Armani Bianco Marble Slab:
Armani Bianco Marble Slab is a classic marble slab. This white stone has been used for centuries in architecture and interior design, with its timeless elegance capturing the aesthetics of many great buildings from the world over. It's also available in black, gray and pink hues.
Jupiter Bianco Marble Slab:
Jupiter Bianco marble slab has an excellent workability that allows for a wide range of design options both for interior and exterior spaces. The Aged Friuli finish is perfect for a natural, rustic look that will last through time with its aged accents and marks.
Mark Bianco Marble Slab:
Mark Bianco marble slab is a white polished product that can be used in both residential and commercial spaces. The durable finish has been engineered to withstand heavy traffic, making it perfect for high-traffic areas such as hallways or staircases.
Marlin Bianco Marble Slab:
Marlin Bianco Marble Slab is one of the many items in Marlin's extensive collection. This slab has a white marble surface with black veins that create an elegant contrast. This slab can be used for kitchen countertops, indoor and outdoor fireplaces, bathroom counters and even as building material.
The slabs come in different sizes, with the largest slabs. Marlin Bianco Marble Slab is an elegant slab that can be used for many applications in your home or business space!
Medrid Bianco Marble Slab:
Medrid Bianco Marble Slab is an excellent marble for use in both residential and commercial applications. The colorful, attractive appearance of this slab makes it a popular choice with designers as well as homeowners who want the aesthetic qualities of a natural stone at affordable prices.
Napolean Bianco Marble Slab:

Napoleon Bianco Marble Slabs are a muted gray marble with hints of light purple, orange and green. The subtle color variation in Napoleon makes it perfect for residential or commercial applications that call for a unique look but don't require the vivid colors found in other marbles such as Vermont Gold and Napolean Brown. It's also ideal for worktops.
Slate Bianco Marble Slab: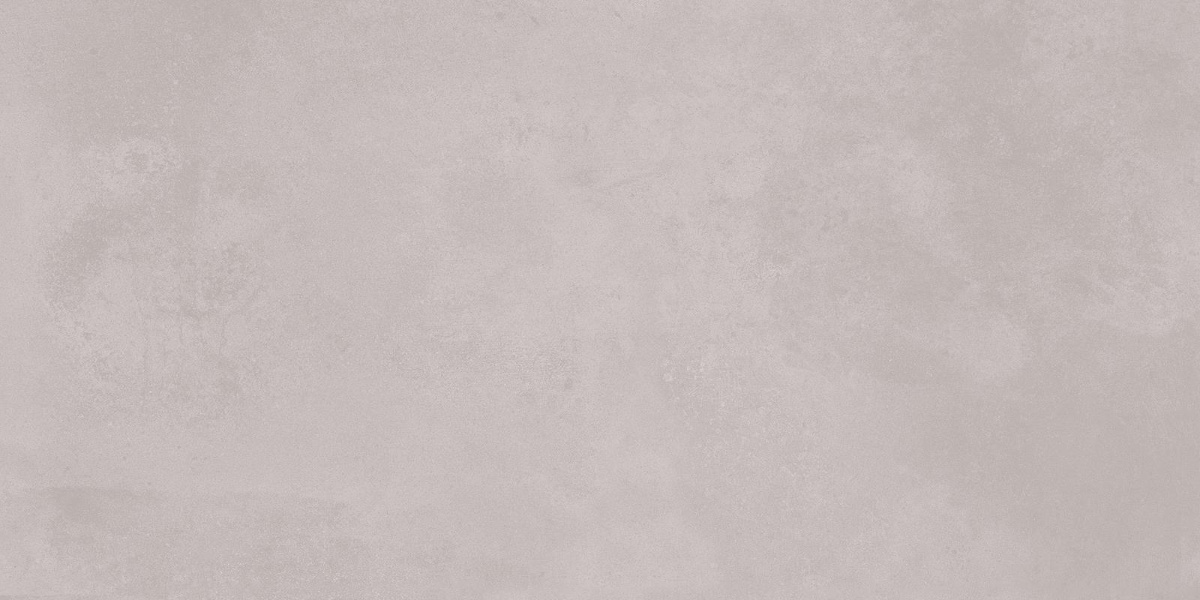 This is the perfect slab to complete your space. Slate Bianco Marble Slab has a delicate light-blue color with natural veining and variation that mimics the look of heavy weathering on old stone surfaces. The long, thin veins are very attractive in their own right, but also serve as an interesting backdrop for more colorful accent pieces.
Bianco Marble Slab Slate is available in a variety of sizes, from small to large. This slate can be used as an attractive countertop or backsplash for your kitchen, bathroom and bar area; it also makes the perfect flooring material if you want something durable but with a cozy feel. The Bianco Marble Slab Slate can also be used to create a beautiful fireplace surround.
Statuario Bianco Marble Slab:
Statuario Bianco marble slab is a white or greyish toned, highly polished and fabricated product. The material has a slight translucency if viewed head-on, with veins of blue running through it. It exhibits the characteristic play of colors owing to its natural vein structure which runs parallel to the surface. This type installation is suitable for use in interior installations such as table tops, flooring and wall cladding.
Teltos Bianco Marble Slab:
Teltos Bianco Marble Slab is a premium quality marble and quartz larger that has been imported from Italy. This slab provides the best qualities of both materials; it's scratch resistant, non porous surface makes for easy clean up and installation. It can be used in any room or space where you want to add elegance and finesse without the worry of any damage.
Tracks Bianco Marble Slab:
Tracks Bianco Marble Slab is a natural and pure white stone quarried in Brazil. Highly prized for its versatility, Tracks Bianco Marble Slabs are used as both interior wall coverings and exterior cladding around the world. You can find Tracks Bianco Marble slabs on luxury homes, hotels, resorts, and high-end commercial projects.